3 quotes for the installation of your water heater: Compare prices, guarantees, TOP 5 Water Heaters
15 January 2020,
Top 5 of the best water heaters on the market in 2020 in Quebec!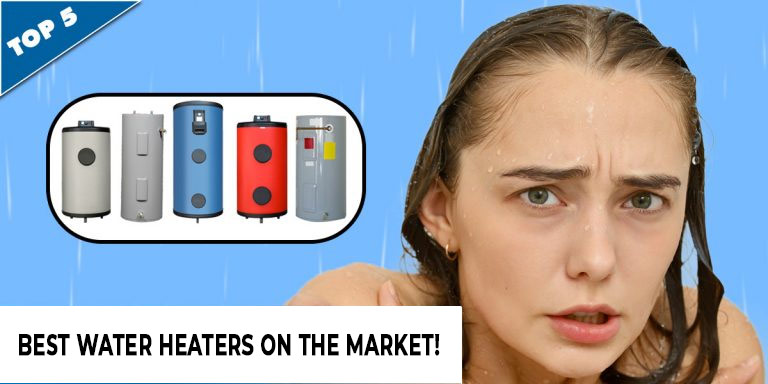 Did you suddenly find yourself in icy water because of your water heater?
Let's do our best to find you a safe replacement.
Several factors will influence your buying process and the abundance of models in stores gives will give you a headache.
Who will you turn to? Is there one foolproof way to replace your old water heater and do the job indefinitely?
Of course not!
On the other hand, we will analyze the advantages and disadvantages of the most popular choices and we will recommend five of them to you.
According to the Office of Energy Efficiency, 20% of Canada's energy consumption is used to power water heaters in homes.
By shopping for your water heater, you are offering yourself the chance to save considerably for years to come!
This choice will impact your budget.
Take a few minutes to find out about the current options that are right for you.
Today, you may be shivering in your shower but tomorrow, you may finally be able to save on hot water!
To start, we need to understand the terminology and distinctions between different water heaters.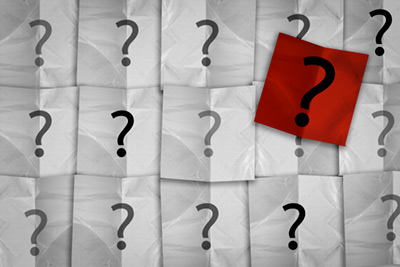 What are the different types of water heaters?
Electric water heater
This type of water heater is generally affordable and requires little maintenance. It offers a more convenient installation than other types in the market and its reduced size makes it very popular in Canada.
Since it does not burn any fuel, its impact on the environment is less and it requires no ventilation. If the place where the device is stored cools, expect a temperature drop. The quality of the internal coating preserves heat.
Hybrid water heaters
This type of water heater, more expensive than the others, will save you a lot of money in the long term. It consumes up to 50% less energy than a standard model of electric water heaters. The best performing models often sell for over $1,000, but that amount can be recovered in two and a half years with the energy savings you will make!
Gas water heater
More expensive than an electric water heater, the natural gas water heater reduces costs if you use it daily. Note that its installation can become a daunting task if you do not have the conduits that allow the evacuation of gas. Its huge advantage turns out to be its complete autonomy from the electrical system. In the event of a breakdown, it does not stop! It is easy to maintain because it has no filters to clean. If there is a toxic odor, it stops immediately for safety.
Propane water heater
The unpopular propane water heater is suitable for the user who wants the energy efficiency of a gas water heater but who is not lucky enough to be connected to a public gas network.
The benefits of these water heaters speak for themselves. But that's not all. There are water heaters with instantaneous tanks. These are more environmentally friendly but they will cost you more upfront. Here are the differences between the two types!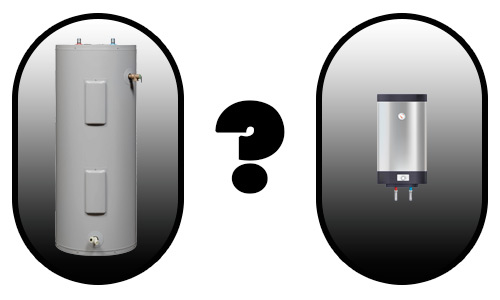 With tank or tankless?
With tank
This is the common model that we find everywhere. This larger device stores water and occasionally heats it up. The use of water causes the automatic filling of the tank. The temperature is constantly checked. If there is cooling, the device switches on the elements to preserve comfort. Do not place this type of water heater in a cold place. Although insulation stores energy much better than it once did, heat will gradually dissipate and cause additional costs. Its high energy consumption and low cost make the decision tough. If you want to buy it, choose among high-efficiency models so you can benefit from a reduction in your energy costs.
Tankless (or instantaneous)
Usually resembling a suitcase, this water heater installs on a wall and occupies only a very small area. Since it does not store water and heats on demand, it is more ecological and its use saves about 30% of energy. If a high demand for hot water occurs at the same time, its exhaustion is felt immediately! It can be electric or gas. Opt for gas, it will cost you less. For cottages or second homes, this type of water heater is more suitable as you won't have to wait for a tank to fill up. It must be drained annually.
As you can see, each type of water heater provides a different solution. Unless you want to modify your current system for energy-efficient reasons, choose the same type of water heater that you already have.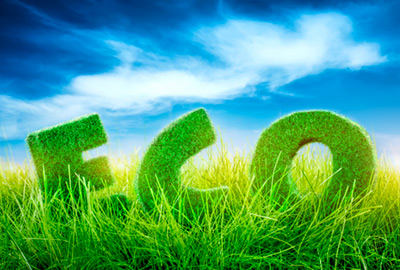 What about these energy-efficient models?
From solar to heat pumps, you will find a variety of choices that could make your shopping more complex. The energy factor, or FE, is normally listed on the device. The higher this rating, the more you will save. It determines the quality of the insulation, the quality of the housing, the burner, the buckling, etc. You will sometimes see an Energy Guide label on the product. This represents its annual cost of use.
Let's talk about the most popular energy-efficient water heaters here.
The solar water heater
First, the solar water heater represents the best energy-efficient bargain. It collects solar energy to return it to water. Sensors installed on a few square meters will do all the work! Sometimes the savings can be 80% of your water consumption. Unfortunately, it is not recommended for our Quebec winters. So we'll put it aside right away.
The hybrid water heater
The efficiency of the hybrid water heater cannot be discounted. With the substantial savings it provides, more than 50% than an electric model, it generates even more hot water per hour.  It also has several models offer flexible modes that allow you to save more or pump more water. The FE of some of them goes up to 2.5!
The tankless water heater (instantaneous)
Some durable devices have lifespans of over 20 years! Several components are replaceable and even recyclable, unlike tank water heaters. When you search for the best of them, you will find hybrids that are capable of heating your home, too!
The geothermal or thermodynamic water heater
This type of equipment draws heat to transmit it to water and air. The savings are very significant but the cost of installing the water heater is considerable.
You are aware of the types of water heaters available but will the capacity be suitable to the needs of your family?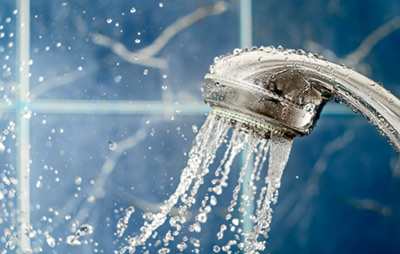 What capacity should my water heater have?
Make sure you have a tank that has enough water. Here is a table that will allow you to identify what capacity you should consume. Note that if you choose the model with the largest capacity, you will only be guaranteed never to run out of hot water (but this will increase your electricity bill)!
| | | |
| --- | --- | --- |
| Inhabitants (Number) | Water heater capacity | Gas water heater capacity |
| 1 person (1 adult) | 50 liters | 90 liters |
| 2 persons (1 adult + 1 child) | 75 liters | 90 liters |
| 2 persons ( 2 adults) | 135 liters | 90 liters |
| 3 persons ( 2 adults + 1 child) | 180 liters | 135 liters |
| 4 persons ( 2 adults + 2 children) | 225 liters | 180 liters |
| More | 290 liters and more | 225 liters and more |
Prices for the Best 40 and 60 Gallon Water Heaters in Quebec
Best Water Heaters
Rheem performance platinum
(50 gallons)
Giant
(60 gallons)
Bradford White
(60 gallons)
Giant
(40 gallons)
Rheem
(40 gallons)
Combustible
Natural Gas
Electric
Electric
Electric
Electric
Warranty
12 years
6 years
6 years
8 years
6 years
Median Price
$950.00
$500.00
$690.00
$450.00
$350.00
When digging through the many existing models, it's not all about knowing the type, output, or technology. You have to explore a multitude of other criteria.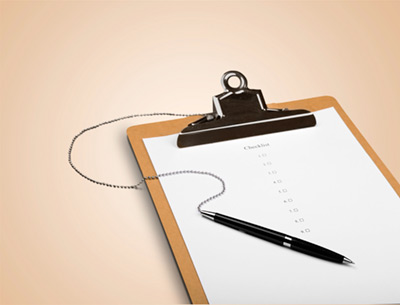 What are the selection criteria when shopping for a water heater?
THE NECESSARY FLOW
For a water heater with a tank, refer to the table above. For a tankless water heater, we recommend 3 gallons/minute for a single person who only uses one appliance at a time requiring water. For each additional use of water in the home, add 3 gallons/minute. Example: if you use the shower, sink, dishwasher, and washer at the same time, we recommend a water heater that has a flow rate of at least 12 gallons/minute.
RATE OF RECOVERY

This represents the number of gallons reheated per hour. Check the device as it is written on it.
THE ENERGY EFFICIENCY RATING
Although most users don't really see this statistic, you now know its importance. By shopping wisely, you can easily repay the cost of your new water heater with your monthly electricity savings.
SIZE
If you are short on space, choose the convenience of a tankless water heater. On the contrary, if you have a spacious place already provided for this purpose, all options are open to you.
TYPE
Electricity or natural gas? Maybe even a hybrid? You now know the difference. If you can afford it, choose a high-performance hybrid model.
WARRANTY
For standard models, the warranty on leaks is 6 years.  If you find 8 or even 12-year warranties, you should know that this indicates high performance. Note that the warranty can usually be transferred to the new owner if the property is sold. Read the manual carefully to be sure.
You are now aware of all the details concerning your next acquisition. Let's now move on to the topic of installation.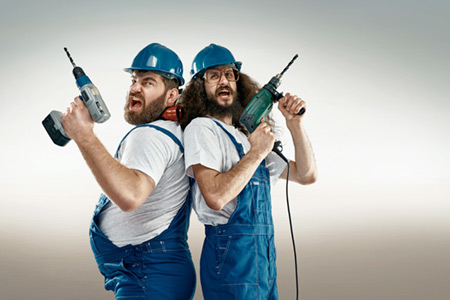 The installation of the water heater
We highly recommend professional installation by an expert. It only takes one mistake to create a disaster. A certified plumber will offer you a guarantee of his work in the event of a problem. In addition, after purchasing all of the materials to complete an efficient installation, you will often end up with almost the same cost.
Even a resourceful friend can be wrong. The damage from a water spill can easily run into the thousands of dollars. Take no chances and be wise by hiring a professional for a water heater replacement.
The cost of a DIY installation
If you decide to install your new water heater yourself, here is a table with the current market prices and the average time required to complete each step DIY.
| | | |
| --- | --- | --- |
| Step  | Cost | Time Needed |
| Purchase a water heater* | $395 | 20 minutes of shopping |
| Materials for installation | $100 | 45 minutes at a hardware store |
| Delivery of equipment | $50.00 | 1 day |
| Installation | $180 | 4 hours |
| Total | $725 | 1 day + 5 hours |
*Average price of a 40 to 60-gallon water heater

Note that these prices are estimates. Several apartment block owners who have to install many water heaters in their homes opt for the services of a plumber. This is more efficient, will cost you less, and most of them can complete the full installation in less than an hour.
Where to install the water heater in the house?
If you follow these few basic steps, you will save yourself a lot of unnecessary frustration:
The floor must be stable, preferably straight.
The proximity of a floor drain will make your job easier.
Your electrical box must be located nearby.
To maximize its performance, install it near your bathroom.
If your water heater has a tank, avoid cool places. Install it in a heated area so as not to sacrifice heat.
How do you install an electric tank water heater?
The law does not require that a water heater be installed by a certified plumber. We advise you to consult an expert but if you have the required skills and knowledge, here is the method to complete the water heater replacement:
Turn off the power supply to avoid serious repercussions.
Stop the water by closing the inlet valve.
Drain the hot water from the tank.
Remove the pipes (you will often need to unscrew some with a wrench).
Remove the tank.
Find the cold water inlet and cut it off (be careful not to cut the pipe too much).
Add a '' T '' fitting to this pipe.
Connect it to the tank of the new water heater.
You will, therefore, have an opening. Put another hose with a valve on it to stop the flow in case of breakage.
It's always important to have a spill contingency plan.
The joints must be tight. Do the necessary.
Test the hot water tap and all valves.
It's time to complete the electrical junctions.
Prevention and maintenance
In most cases, a few simple steps can help your water heater last longer.
Your device will accumulate deposits over time. Drain it periodically to clean the internal walls and increase its lifespan.
A sacrificial anode protects the tank from corrosion. It is important to replace it if it stops working.
Test your safety valve occasionally. Its function is to stop the water. If it fails, you should replace it.
The internal thermostat may break. Since this piece will not cost you a fortune to replace, pay a visit to your local hardware store.
Finally, know that two parts take care of heating your water. One is located at the top and the other at the bottom of the device. If one of them stops working, the production of hot water will be considerably reduced. The good news is that these parts are not expensive.
Let's compare two companies with each other! You will see that these manufacturers are distinct. Sometimes you have to compare to make a good choice.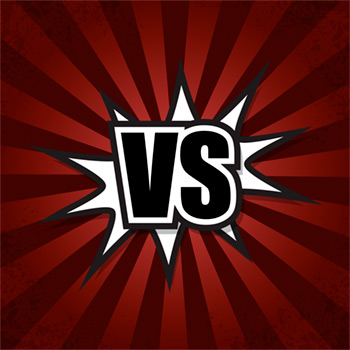 Bradford White vs. Giant!
Among the giants in the field of water heaters, you will find Bradford White and Giant. Here are the main differences between the two:
Bradford White
By constantly investing in the development of new technologies, Bradford White introduced the Hydrojet technology. This destroys the sediment and maintains the water temperature.
They also invented the Vitraglas technology. The tank is covered with a special enamel which protects against corrosion.
Giant Inc.
Manufacturing electric water heaters of all sizes, Giant has also developed technologies that improve the efficiency of their products. The first, called GREENFOAM, protects against heat loss. It is a very high-quality insulating foam.
ECOPEAK technology uses 3 elements rather than 2, more efficiently heating the water in the tank.
Finally, the Defender Safety System prevents the fire from leaving the combustion chamber.
Finally, we come to the moment of truth! Here are the 5 best water heaters based on their categories (the Top 5 of the best water heaters in the greater Montreal region will follow after).
The top 5 of the best water heaters (all types)
A PORTABLE WATER HEATER IS PERFECT FOR CAMPING!
Model:  ECCOTEMP L5
Tank: None
Gallons / minute: 1.4 (for one person)
Consumes: Propane
Weight: 13.8 pounds
Size: 14.5 '' x 11.5 '' x 4.5 ''
Wattage: 11 KW
Max pressures: 80 PSI
Warranty: 1 year
A HYBRID WATER HEATER FOR UP TO 4 PEOPLE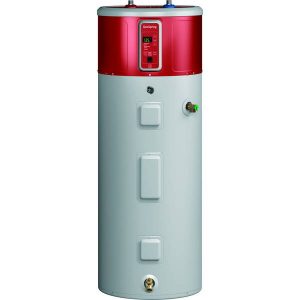 Model: GE GeoSpring GEh40DFEJSR
Tank: 50 gallons
Consumes: electricity / gas
Weight: 88 kg
Size: 56.5 '' x 56.5 '' x 151cm
EF: 2.4
First hour: 65 gallons
Savings: 60% compared to standard
Warranty: 10 years
This water heater is a terrific machine. It generates enough hot water for a family of four. It is Energy Star certified. A digital panel allows for easy and convenient use. It is possible to adjust the temperature remotely by installing an app on your cell phone! (an additional purchase is required).
The FE is 3.25, which means savings of about $330 annually in energy costs. On the other hand, you can increase your consumption with different modes if you find that the device does not provide enough for your needs.
IT DOES THE JOB. IT'S A GOOD MID-RANGE MODEL.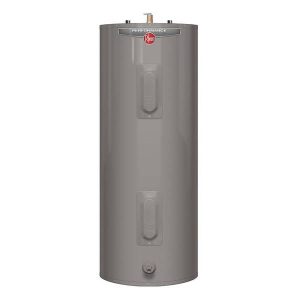 Model: Rheem XE40M06ST45U1
Tank: 40 gallons
Consumes: electricity
Weight: 109 pounds
Size: 19 '' x 19 '' x 63 5/8 ''
FE:  .95
First hour: 51 gallons
Economy: Better than the standard.
Warranty: 6 years
This water heater can serve a house with 2 to 4 people.  It has two 4500 Watt heating elements. Easily replaces any tank water heater. Easy to maintain.
AN EFFICIENT TANKLESS WATER HEATER!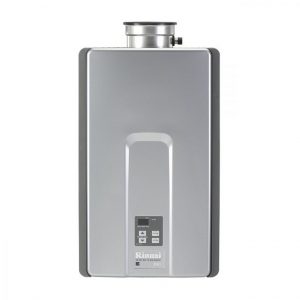 Model: Rinnai RL75iN
Tank: No.
Gallons / minute: 7.5
Consumes: gas
Weight: 45.6 pounds
Size: 14 '' x 23 '' x 9 ''
EF: 3.3
Savings: 82%
Warranty: 10 years
It will save you a lot of money! This model heats the water right away due to its heating duct system.  It is efficient, quiet, durable, and energy-efficient. Its control panel is digital and very easy to use. If a leak is detected, the water flow is automatically stopped. If there are deposits that accumulate, it detects them to avoid breakage.
Its price is higher than the other water heaters mentioned above but it is worth the price. If you can afford the price, go for it!
MORE HOT WATER! MAXIMUM OUTPUT!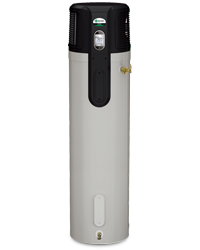 Model: Voltex PHPT-60
Tank: 60 gallons.
Consumes: electricity / gas
Weight: 365 pounds
Size: 24 1/4 '' x 24 1/4 '' x 67 1/3 ''
EF: 2.4
Save: 63%
Warranty: 10 years
This is a hybrid piece of equipment that is recommended by many experts. Its EF of 2.4 makes it great in terms of energy savings. If you consume a lot of hot water, this water heater will save you a lot of money. It has 4 adjustable functions that facilitate its use. When you leave the house, it goes into sleep mode to save energy. It absorbs heat from the ambient air to transform it and the included anode has increased durability.
If you install it in a garage or basement, it removes moisture from the air.
The top 5 residential water heaters for the greater Montreal area
Rheem Performance Platinum 50-Gallon Gas Water Heater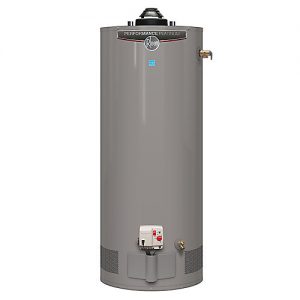 Average price: $950.00
Tank: 50 gallons (3 to 5 people)
Fuel: natural gas
Energy Star: .67
Warranty: 12 years
Size: 23 '' x 23.75 '' x 55.5 ''
Our rating: 4 stars
Here's a natural gas water heater that will save you a lot of energy. A Wi / Fi interface gives you control of your device. Set it remotely! It is part of the Rheem Performance range.
Giant 60-gallon electric water heater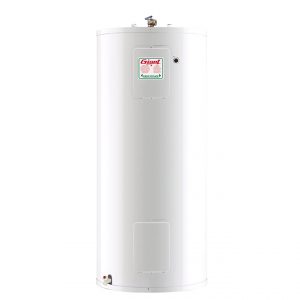 Average price: $ 500.00
Tank: 60 gallons (4 to 6 people)
Fuel: electricity
Energy Star: –
Warranty: 6 years
Size: 23 1/2 '' x 23 1/2 '' x 59 7/8 ''
Our rating: 3 stars
The large capacity of this water heater (279 liters) gives it a definite advantage for a big family. Its GREENFOAM insulation helps control heat loss. This model meets Ressources naturelles Canada (RNCan) standards.
Bradford White 60-Gallon Electric Water Heater, M-2-65R6DS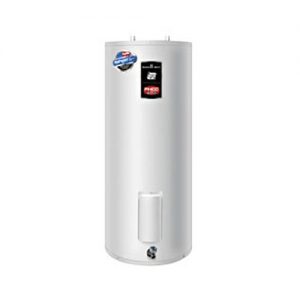 Average price: $ 690.00
Tank: 60 gallons (4 to 6 people)
Fuel: electricity
Energy Star: –
Guarantee: 6 years
Size: 22 '' x 22 '' x 59 1/4 ''
Our rating: 4 stars
The estimated annual electricity consumption from this water heater is approximately $500.00. This product is a combination of power and energy efficiency. Slimmer than the other 60-gallon models, you will find it convenient. An anti-corrosion coating extends its service life.
Giant 40-Gallon Electric Water Heater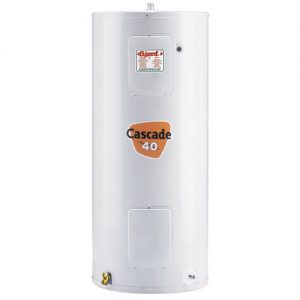 Average price: $450.00
Tank: 40 gallons (2 to 4 people)
Fuel: electricity
Energy Star: –
Warranty: 8 years / 5 years
Size: 22 '' x 22 '' x 48 ''
Our rating: 3 stars
Its GREENFOAM insulation helps control heat loss. This model meets RNCan standards. It is equipped with 2 heating elements of 3000 Watts.
40-Gallon Rheem Electric Water Heater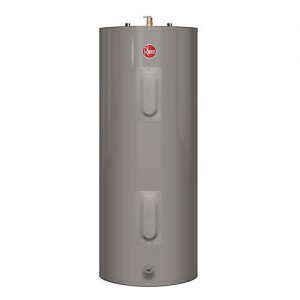 Average price: $350.00
Tank: 40 gallons (2 to 4 people)
Fuel: electricity
Energy Star: –
Guarantee: 6 years
Size: 23 '' x 23 '' x 50 1/2 ''
Our rating: 3 stars
This model sufficiently supplies hot water to a home for 2 to 4 people. Its magnesium anode protects the reservoir from sediment deposits. Its price guarantees immediate savings on purchase.
**The data in this list was obtained from 2017 and will soon be updated by our team…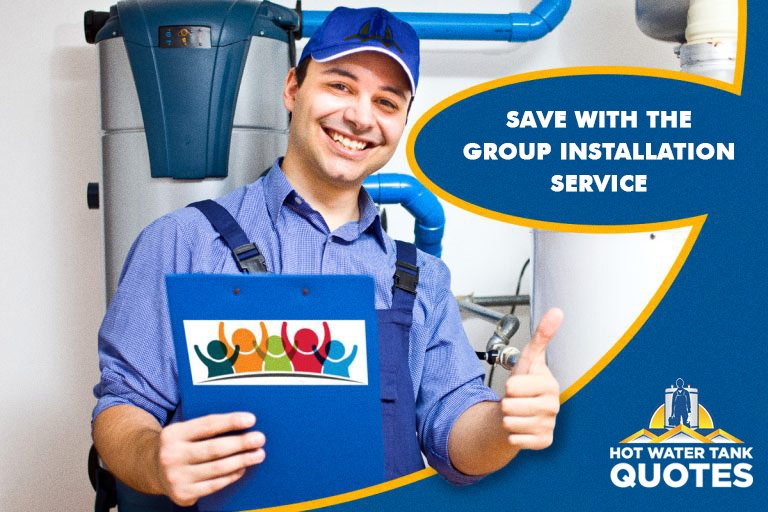 Group installation service
A group sales installation feature is provided by Hot Water Tank Quotes. This will pool expertise in your area as an additional benefit. In this way, the specialist will have the opportunity to move from one place to another to save his time and yours.
You can contact us to inquire about this service.
Conclusion

In short, you now have all the tools to make an informed choice which suits your budget. If you are planning to install a new water heater, we recommend that you request for free quotes using the form on this page. The form only takes a few seconds to complete and you are not obligated to purchase anything!
Your data will be transmitted and 3 professional quotes will be sent to you by email as soon as possible. Remember that Hot Water Tank Quotes will help you by putting you in touch with reliable plumbers in your area so you can save time and money!