Are you replacing your Giant Hot Water Tank? Compare prices and different models to replace your Water Heater
17 November 2018,
In Quebec, water heaters are overworked because of the climate. Hot water consumption per capita is among the highest in the world. Thus, water heaters occupy an important place in the daily lives of Quebecers, whether they are in Kuujjuaq, Quebec, Montreal, Trois-Rivières, Sherbrooke or elsewhere in the province. It is important to have a quality water heater that meets the needs of the occupants. Some suppliers make good ones but, among them, there is Giant …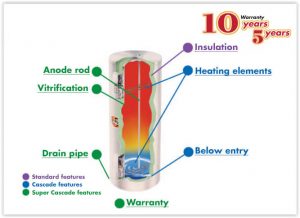 GIANT, a giant in water heaters in Quebec
For more than 60 years, this water heater manufacturer dominates the market. GIANT does not support the sale or installation of its products, preferring to focus on the manufacture of water heaters that are designed to last. This specialization certainly bore fruit. Distributors and retailers such as Hydrosolution or Réno-Dépôt and plumbers take care of the sale and installation of these water heaters.
In addition to electric water heaters, gas, oil and tankless, the manufacturer produces a good ecological insulation foam called GREENFOAM. GIANT water heaters also benefit from this good insulation. These premium products are made from raw materials from Canada.
Quality without compromise!!
The Giant quality system is ISO 9001-2008 certified. Giant water heaters are also ENERGY STAR certified.
Below are examples of the different prices for a Giant water heater in Quebec:
| | | |
| --- | --- | --- |
| | Giant regular water heater, 40G | Giant Super Cascade, 40G |
| Hardware A | $319 + taxes | $439 + taxes |
| Hardware B | $309 + taxes | $579 + taxes |
| Hardware C | $360 + taxes | $561 + taxes |
These prices don't include installation. Prices vary a lot so it is worthwhile to compare. Request for your free quotes on this page to get prices with installation from a recommended plumber.
The most popular GIANT water heaters
They are the following:
GIANT Compact
Standard
Cascade (with or without ECOPEAK technology)
Super Cascade (with or without ECOPEAK technology)
Atmospheric vent gas water heaters
These models are sold through different retailers and plumbers as well.  The main advantage in dealing with a plumber is to ensure the quality of the installation of the system. This is an investment that can be profitable in the long-term.

Identify the model that will meet your needs
Did you know that water heating is the second biggest household expense among residences in Canada? The energy efficiency of a water heater makes a lot of sense.  I fact, GIANT water heaters are ENERGYSTAR certified (the mark of energy efficient products in Canada) and qualify for Reno Climat, Gaz Métro, Gazifère, Chauffez Vert and EcoRenov subsidies in Quebec. In addition to the cost of usage, good performance is also critical. For example, do you wish for hot water instantaneously? If yes, the so-called on-demand or instantaneous water heater (without tank) is required. Other factors to consider when choosing: the purchase price, lifespan, etc. As for the manufacturer's warranty, it is 6 to 10 years for water leaks and 1 to 5 years on parts.
Ask a plumber to find out more about Giant's offers.
| | | |
| --- | --- | --- |
| Energy Efficiency | ENERGYSTAR Certification | Selling price |
| Cost of use and maintenance | Lifespan | Warranties offered |
| Speed in providing hot water | Quantity of hot water that can be provided (tank) | |
Below is a table of comparison of the most popular GIANT water heater models to help you determine the model that is right for you:
GIANT Compact
GIANT Standard
GIANT Cascade

GIANT Super Cascade                  

Atmospheric vent




gas models

Volume
2, 5, 10, 16 and 22 gallons
30, 40 and 60 gallons
40 and 60 gallons
40 and 60 gallons
30, 40, 50 and 60 gallons
Usage
For minimal  hot water needs
such as in a cottage
For all hot water needs at home
High performance, 10% more hot water instantly
3 heating elements instead of 2,
energy-efficient
Works in case of a power failure
One gallon is equivalent to 3.78 liters, therefore 40 gallons equals 151.4 liters and 60 gallons provides 227.1 liters.
The ECOPEAK technology (offered with GIANT Cascade and GIANT Super Cascade) are eco-friendly in the sense that they use 3 elements rather than 2. The top element works with the other 2 elements alternately to heat the water in the upper part of the tank as needed. The middle element also works as needed, with the bottom element to complete the heating over short periods of time. This is the bottom element, which has lower power, and runs almost continuously. While the 60- gallon electric water heaters found in the market normally have 2 elements of 4500 watts, hot water tanks with ECOPEAK technology have elements of 800, 3000 and 3800 watts.
The price of a water heater with ECOPEAK technology is similar to a water heater without it. This technology has passed many tests conducted by the Hydro-Quebec Energy Technologies Laboratory in the last two years. The conclusion was that there was no impact on the availability of hot water. Although there is no difference in electricity costs, the service life and reliability of the system is higher because the components are not overworked.
The GIANT Compact: less than $300 for 10G, 120V
Among the features of this product, here are some that are important for you to know:
Insulated with ecological fiberglass
Automatic temperature control
Safe drain valve
High-quality magnesium anode
GIANT Standard model: less than $300 for 40G, 240V
In addition to the listed elements of the GIANT Compact model, note that:
Cold water inlet up to (3/4 inch)
Hot water outlet up to (3/4 inch)
Safety valve between the inlet and outlet
Weight ranges from 115 to 185 pounds
The GIANT Cascade model: less than $350 for 40G, 240V
Source: GIANT
Cold water downward inlet (3/4 inch)
Hot water outlet up to (3/4 inch)
Weight varies from 40 to 185 pounds
Cold water remains at the bottom of the tank until it warms up.
The GIANT Cascade water heater is very commonly used in Quebec. Let's take a few moments to consider the 5 interesting aspects of engineering of this masterpiece.
The Giant Cascade is well insulated: an eco-friendly foam insulation is placed evenly on the tank to keep the hot water as long as possible. This foam does not contain hydrochlorofluorocarbons, chlorofluorocarbons or volatile organic compounds, is healthy and has reduced potential heat loss.
A high-quality magnesium anode:keep in mind that its function is to counter the corrosive effects of water and thus maximize the lifespan of the tank where it is installed.
Easy to replace elements:In case of breakage or maintenance, you don't necessarily need to hire a plumber to replace the element of your GIANT water heater. In fact, most everyone can replace it because it does not require a special tool.
A vitrified tank:The GIANT Cascade tank is certified to withstand a pressure of 300 PSI. Blue cobalt glass which has been enriched with zircon and hardened with high-temperature steel, are not easily affected by rust.
Automated temperature control:The thermostats are easily adjustable based on your needs and a limiter provides protection for abnormal situations.
The GIANT Super Cascade model: less than $400 for 40G, 240V
Source: GIANT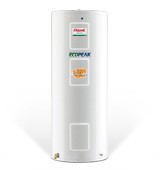 Similar to the Cascade Model except that it offers more durability:
A larger magnesium anode (less corrosion)
Double glass thickness (even less corrosion)
Low-density elements (more durable)
A brass drain valve for easier flow
GIANT atmospheric vent gas water heater
Stainless steel frame controller, anti-corrosion
Low maintenance
POWER TWIST chimney for better heat retention
LOW-NOx burner: better combustion and less pollution
The weight varies from 146 to 205 pounds
These prices are approximate and do not include costs of installation.
Pay a good price for your water heater
When shopping for a water heater, many will notice that a 40-gallon water heater can sell for $300-$600. But why does the price vary so much for tank of the same size? This question is important.
The first thing to consider is the power of the elements of the water heaters for sale.  Buying a 40-gallon water heater with 2 elements of 4500 Watts or another with 2 elements of 3000 Watts means choosing a different solution from the other. Roughly, we can say that the first water heater hears water 50% faster than the second model.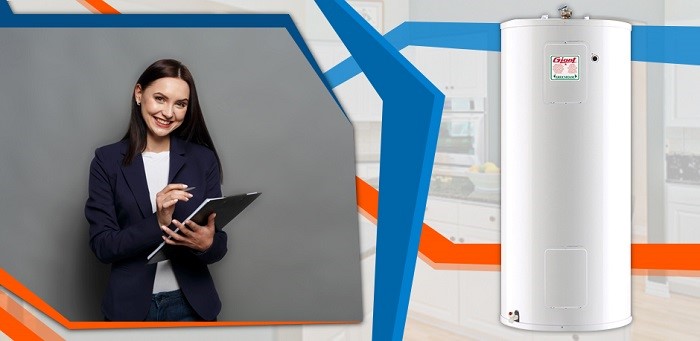 Another element that significantly affects the price: the warranty that comes with the water heater. For example, GIANT offers a warranty of 6 to 10 years on its quality water heaters and from 1 to 5 years on parts. In contrast, if you buy a water heater without a warranty, it will be cheaper but you don't have any protection.
 The average service life of the average water heater is 10 to 15 years.
Compare the price for your future GIANT water heater
After deciding what type of water heater you want, you need to consider the purchase and installation. The safest way to do this is to contact a plumber.  This will give you peace of mind when it comes to installing parts. By doing it yourself, the likelihood of mistakes is increased. These mistakes can be expensive, especially in case of leaks. Moreover, in terms of maintenance, the repair or maintenance of a water heater is inevitable over time and a professional plumber is still the best option.
This is where Hot Water Tank Quotes makes sense. The goal of this free service is to allow you to compare 3 quotes from 1 recommended local plumber. It is quick and without any obligation on your part!
To receive 3 free quotes from 1 reputable and certified plumber in your area, fill out the request form on this page for installation or replacement and installationof a water heater in Montreal or Quebec.